See my listing in the Artists of Northwest Minnesota booklet (editions 4 and 5) here.
Breath of Wilderness: The Life of Sigurd Olson hit the shelves April 2014. Here are some scheduled events:
April 26, 2014 Listening Point Foundation's annual birthday lunch honoring Sig Olson. Breath of Wilderness is available for purchase. Kristin will be at the event to sign your books.
May 29, 2014 Book reading at Hallock City Hall sponsored by the Hallock Public Library. Books will be available for purchase.
June 5, 2014 Radio interview with Kristin about Sigurd Olson on Wisconsin Public Radio's Central Time. Listen to the segment here: http://www.wpr.org/listen/589186
June 28, 2014 Book signing at Ferguson's Books in Grand Forks, ND from 11-1pm. Book signing at the Kennedy Days Celebration in Kennedy, Minnesota from 2:30-5pm.
July 19, 2014 Book signing at the Kittson County Fair in Hallock from 5-9:00 p.m.
August 2 & 3, 2014 Book signing at the International Woodcarving & Arts Festival at the Lake Bronson State Park. Saturday 10-5, Sunday 10-4.
August 28-31 Signed copies of the book will be available for purchase at Your Lucky Day occasional sale, 4159 Grand Ave, Minneapolis 9am-6pm
September 5, 2014 Book signing at the Listening Point Foundation Annual Northwoods Dinner at the Grand Ely Lodge in Ely, Minnesota at 5:00 pm.
September 6, 2014 Book signing at Piragis Book Store, 105 N Central Ave, Ely Minnesota at 11:30 am.
September 23, 2014 Book reading in St. Paul.
September 25, 2014 Book reading at Iowa State University Alumni Center.
November 11, 2014 Book reading at Augsburg College, Lindell Library Room 301 from 5:30- 7pm.
November 22, 2014 Book signing at the Village Bookstore, Central Square Mall, Grand Rapids MN noon-2pm.
December 2, 2014 Book signing open house at Hallock Public Library from 5-7 pm.
December 4, 2014 Literature and Libations at Far North Spirits, Hallock from 6-8 pm.
May 21, 2015 27th Annual Northeastern Minnesota Book Awards, Kirby Ballroom, University of Minnesota Duluth. Book fair from 5-6:30 and 8-9:00 pm and Awards Program from 6:30-8:00 pm.
June 23, 2015 Pioneer Radio 90.1 Interview with Ron West.
August 15, 2015 Book signing and and reading at Williamsburg Public Library, Williamsburg Iowa 11am.
February 9, 2019 Book talk and signing at En Liten Svensk Shoppe, Roseau MN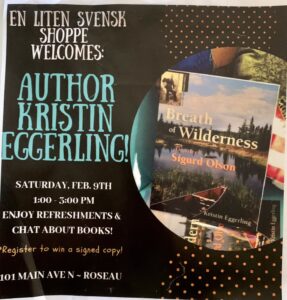 I had some works in the elemental: earth, air, fire, water, space exhibit at Northland Community and Technical College. For more info click here.
October 2, 2021 Book reading and signing at Scandinavian Fest in Malung, Minnesota.
Breath of Wilderness and some of my poems are featured in the Artists of Northwest Minnesota Art Exhibit at NCTC in Thief River Falls — open from October 7 through December 1. The exhibit includes artists who have a listing in the current artist booklet.