I recently had the opportunity to participate in planting a pollinator garden around the gazebo downtown Hallock. The garden is one of Hallock Main Street's (our downtown development group) community efforts to improve the quality of life downtown by enhancing our natural resources and green space.Here's a brief rundown of how it happened.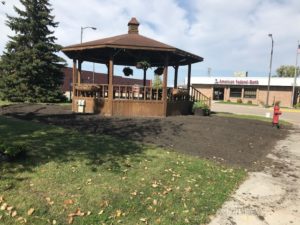 The garden grew out of a Northwest Minnesota Foundation grant that was awarded to the city through the efforts of Hallock Main Street. The Northwest Minnesota Regional Development Partnership Board provided funding and a connection to University of Minnesota Crookston Associate Professor Eric Castle and his Spring 2018 Landscape Design Class who drew up plans for pollinator gardens in four different locations throughout Hallock. Student MacKenzie Cochran created the plans for this garden. C&M Ford held a Drive 4 Ur Community Event to raise matching funds from Ford Motor Company to purchase the plants. They also provided a tiller and staff time to prepare the area. Darcene Burgess of Burgess Greenhouse worked closely with the city to modify the plans and secure the plants. The Two River 4H Club and their parents planted the garden. Master Gardener Mary Cooney lent her expertise by coordinating the plantings and directing the 4Hers and parents. Cooney and Jeanne Cooney will also be donating the mulch. Farmer Mike Gunnarson provided a water tank to water the plants during the planting. Other volunteers include Brent Donaldson and Tom Cooney.
Truthfully, I complained a lot beforehand. I had written the grant and then got stuck leading the efforts to get the garden planted, which took a ton of coordination and wrangling and finding matching funds, etc. But, I felt heartened when people stepped up to get the project done as it got closer to planting. I loved planting along with the 4H kids. Most of the time I worked with two sisters — one who wore a Vikings cheerleading costume while she gardened. They struck up conversations as we worked. One asked me what my favorite car was. I said, "well, I drive a Taurus and I really like it. How about you?" She replied, "I don't drive." The kids all worked hard and they stayed focused . We didn't think we'd get the 200 plants in the ground that afternoon, but we did.
This truly was a group effort where many volunteers and funders stepped in make it happen.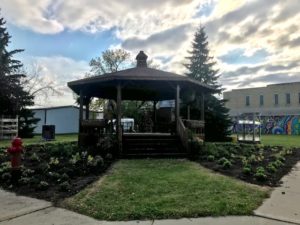 What is a pollinator garden anyway?
Besides natural beauty, a pollinator habitat garden was chosen for a few reasons. Pollinators, including bees and butterflies, and other beneficial insects have been declining in recent years. Food production and farming rely on pollinators. These plants contribute a vital role in the production of crops. Pollinator gardens also tend to require less maintenance.